An informal memorial service was held at Leinster House to mark the centenary of Arthur Griffith's death.
A signatory to the Anglo-Irish Treaty, Griffith died on August 12, 1922, aged just 51.
Tánaiste and Fine Gael leader Leo Varadkar remembers him as "a thought leader" and a founding father of the Irish state.
A number of low-key events are due to take place over the next few days to mark the centenary, including a ceremony on the grounds of Griffith College and at Glasnevin Cemetery.
A wreath laying ceremony also took place today in the garden of Leinster House, attended by Mr Griffith's descendants.
The event was coordinated by Waterford TD Matt Shanahan.
Mr Shanahan said the event was being held to help ensure recognition of Griffith's "legacy and sacrifice lives on in the Ireland of tomorrow".
Griffith's death in 1922 was described as a "calamity for Ireland" by Michael Collins, who himself would be killed days later on August 22.
Griffith's grandson, Shane Gray, said his grandfather would never be considered a folk hero, unlike Collins.
"He lived in the shadow of Collins," he told RTÉ's Morning Ireland.
"Michael Collins, who was the hero and died heroically in battle, etc. That charisma was not something Griffith had."
Mr Gray said his grandfather had many other attributes and had worked hard all his life to secure the freedom of Ireland.
"What we've been fighting for for 700 years, so he was never going to be remembered as a folk hero, but he should be remembered."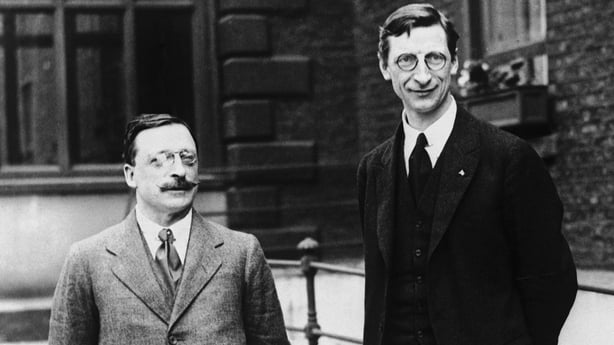 Mr Gray said that although he never knew his grandfather, he spent a lot of time with his grandmother, Maud Griffith.
He described her as a "feisty woman" who had strong opinions about the Civil War period and how Arthur was treated.
"He died of stress and overwork, which caused a brain haemorrhage – as stated by his doctor at the time," Mr Gray said.
He said his grandmother was not bitter, but certainly had strong opinions. She burned much of the papers and letters that might have been of interest to history scholars, he said.
"The name De Valera could never be mentioned in the house. It was just called 'that long chain of misery', which I guess wasn't entirely inaccurate, but yes, thanks to her I learned some things, but she pretty much swore never to talk about those horrible times," Gray said.