Terry Ward felt a certain peace on Monday afternoon. Long-awaited peace.
One hundred and 21 years after his African American great-grandfather, George Ward, was lynched in Terre Haute by a vicious white mob who also burned his body. No one among the crowd, which numbered more than 1,000, was ever held responsible for this atrocity in 1901. George Ward never received a proper burial.
A ceremony on Monday afternoon at Highland Lawn Cemetery gave the memory of George Ward a resting place.
The event was the second memory of George Ward and the injustice inflicted upon him in the Terre Haute community. On September 26, 2021, a historical marker was placed on the north side of Fairbanks Park. This is near where Ward was lynched by the violent mob that stormed the Vigo County Jail, beat him unconscious and hung him from the bridge over the river Wabash. The brutality denied Ward due process under the law, after Ward – a 27-year-old husband from Terre Haute, father of two young children and employee of Car Works Shop – was charged with the murder of a young schoolteacher , Ida Finkelstein, and arrested at her workplace.
It was February 26, 1901, according to a historical account by Crystal Mikell Reynolds, a Terre Haute historian.
On Monday, a pot of dirt collected from the area near George Ward's lynching in 1901 was buried at Highland Lawn, near the graves of his daughter-in-law, grandchildren and great-grandchildren. A second historical marker has also been placed in the cemetery.
"From that perspective, we were trying to find him a place to rest," Terry Ward said of his great-grandfather, over the phone after Monday afternoon's small private ceremony.
"It represents to us the proper burial that many African Americans wish to have," Ward added, "and to let the spirit be free."
The effort to remember George Ward and for the community to recognize injustice has gained momentum in recent years from several sources, including the Terre Haute Facing Injustice Project, the Greater Terre Haute NAACP branch, the national community memory of the Equal Justice Initiative based in Montgomery, Ala., Reynolds and Terry Ward and his family, as well as others.
George Ward's murder was one of more than 4,400 racial terrorist lynchings to occur in America between the post-Civil War Reconstruction era and World War II, according to the "Lynching in America" ​​report. of the Equal Justice Initiative.
The 2021 historic marker dedication near the riverfront included the reading of Indiana Senate Resolution 72 commemorating George Ward. Local public officials, including Mayor Duke Bennett and State Senator Jon Ford, participated in the groundbreaking ceremony a year ago. That day showed a difference in Terre Haute from 1901 to 2021. "The difference is that the community rallied around what we were doing," Terry Ward said Monday.
The Equal Justice Initiative provided the second marker placed Monday at Highland Lawn, Reynolds said.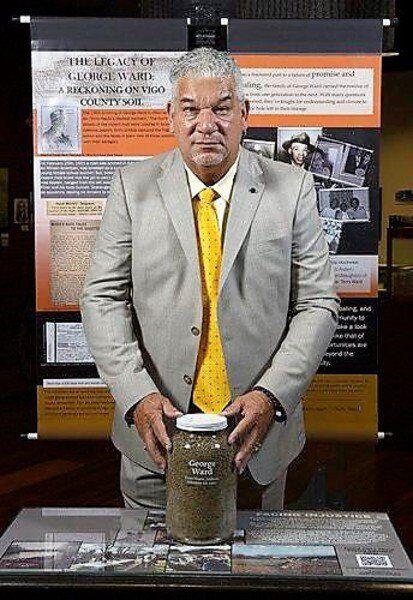 He called Monday's silent ceremony "a joy for me – a painful joy, but a joy". The stigma that followed his family for generations after the lynching of George Ward has been lifted. "A lot of times the name you have affects how you're treated from generation to generation," said Terry Ward.
Raising awareness of this dark moment in the community's history can help prevent hate-motivated attacks, he said. "If the truth is told, then maybe we will never experience these injustices again," said Terry Ward. "We don't want this kind of thing to happen to people of any nationality."
Reynolds attended the interment of the ground and the dedication of the second marker and later said by telephone, "It was about peace and joy."
Reynolds hails from New Orleans, where African-American funerals traditionally end with upbeat music. Monday's ceremony ended with André Crouch's song, "Soon and Very Soon," with the chorus "Hallelujah, Hallelujah, we are goin' to see the King!"
"We think now the person is in a better place," Reynolds said, "and we think George Ward is in a better place."
Mark Bennett can be reached at 812-231-4377 or [email protected]