TAMPA — Anna Rebecca Wyche was a freed slave woman, mother, cook and businesswoman.
She was also among those buried at Zion Cemetery in Tampa, the segregation-era black cemetery that was cleared and then built.
"I have to humanize it," said Jeraldine Williams, Wyche's great-great-granddaughter. "She must be more than a box of bones that was thrown away."
On February 17, Williams held a service for Wyche in the land of Zion.
It was the first burial since Zion was obliterated nearly a century ago.
About 60 people — led by a Tampa Police motorcycle escort from Williams' home in Ybor City — attended the funeral, which was held in the parking lot and courtyard of one of the five apartment buildings in Robles Park Village, which were evacuated after the Tampa Housing Authority learned they were erected atop a portion of Zion.
The rest of Zion's 2½ acres is covered in warehouses and a towing lot, all on the 3700 block of N. Florida Avenue.
Flowers and an altar were placed where ground-penetrating radar confirmed graves.
It was a way to commemorate "everyone else in Zion who was also looked down upon," Williams said.
"An assault and an insult"
Lively jazz music opened the service presided over by Donald Dowridge, serving as griot, who is a West African storyteller.
Against the backdrop of a fence that the Housing Authority covered with a decorative screen telling the story and names of those buried in Zion, Dowridge spoke about the history of the cemetery and Wyche's life.
The desecration of his grave "was an assault and an insult," he said during the service.
An emotional Williams later added during the service: "It hurts and it's painful."
Zion was founded around 1901 in the historic black community of Robles Pond and became the final resting place for 1,000 people.
In December 1923, a Tampa newspaper called Zion Cemetery one of the "largest and most used burial sites" in the city.
About a decade later, the headstones were removed but the bodies remained.
Buildings were erected over the graves and Zion was ignored and forgotten until 2019, when archaeologists searched for graves in response to a Tampa Bay Times article wondering if the cemetery was still there.
Six months ago, while researching her ancestry, Williams learned that her maternal great-great-grandmother was one of them.
"I saw the death certificate and I was in shock," she said. "I figured I needed to know more about her. So, I put my reporting skills to work.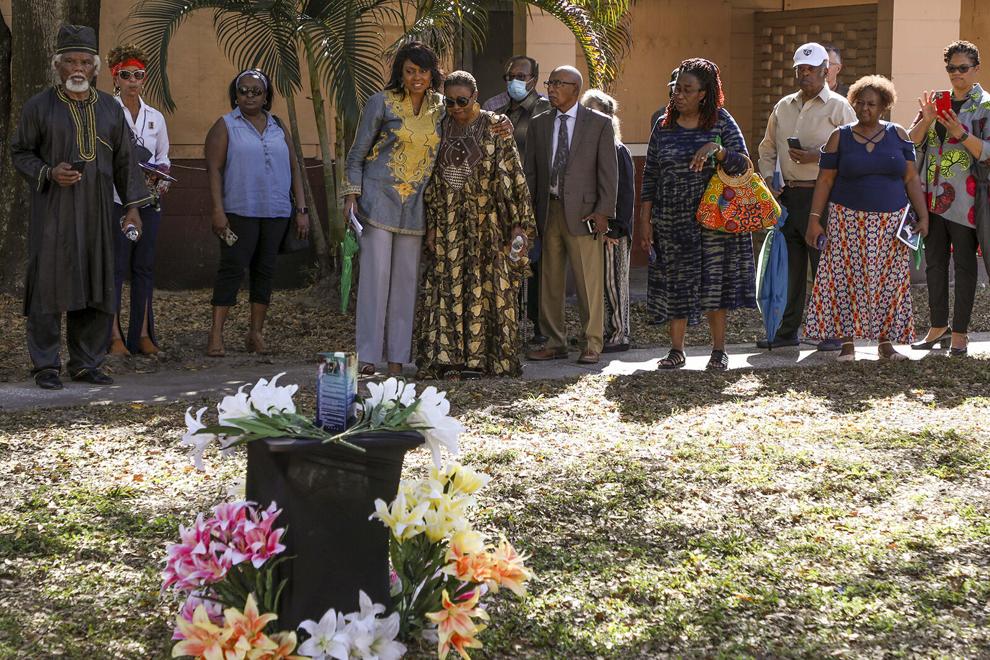 find ana Wyche
Wyche was born into slavery in Alabama in 1839, according to Williams, 76, a former journalist and the first black graduate of the University of Florida School of Journalism.
In 1900, Wyche had nine children and lived in Cherry Lake, Florida, Williams said. A census listed Wyche and her children as "mulattoes", meaning that "his mother was probably a mulatto child of an African mother and her Welsh slave master".
She was married to Frederick Wyche and widowed in 1910 when she moved to Tampa and lived with grandchildren at 108 Newcomb St., Williams said.
The News Archive reports that Newcomb Street was in the Scrub, a historic black neighborhood it was on the outskirts of downtown.
Wyche could read and write, according to the 1910 census, Williams said, and she was "industrious because she rented a room from a boarder." And, at one point in her life, Wyche was a cook, "probably in the big house on the plantation."
She died on March 30, 1912, aged 73.
"It's a long time for someone who endured being enslaved to live," Williams said.
Williams wonders if Wyche had a funeral or a headstone when she was buried in Zion on April 1, 1912.
"I believe she was poor," she said. "Could they afford a service? If not, I hope she's happy to have one now.
During the opening moments of the funeral, Williams walked through the parking lot where pioneering black Tampa residents, possibly her great-great-grandmother, are still buried, and read Maya Angelou's "Still I Rise."
"From the huts of history's shame I rise," she recited. "From a past rooted in pain, I rise."